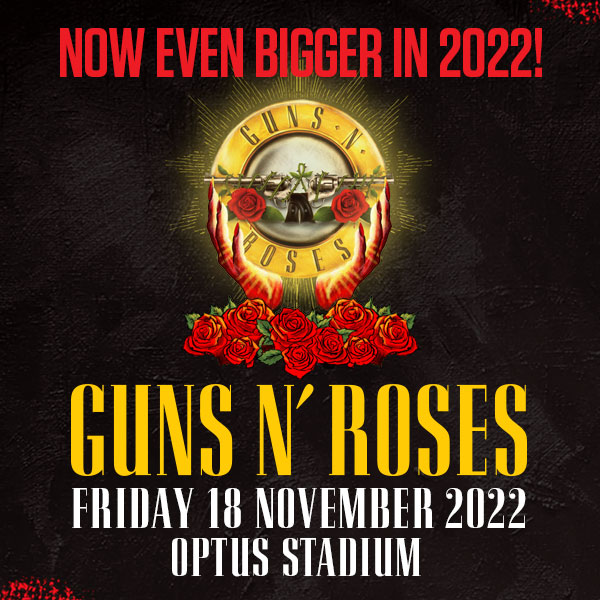 Stadium Rock is back! Guns N' Roses 2022
Stadium Rock is back!
Guns N' Roses return to Australia, now even bigger in Summer 2022!
Friday 18 November 2022
Tickets on sale now!
What was to be the biggest stadium rock tour of 2021 is moving to Summer 2022! TEG DAINTY announced that Guns N' Roses massive Australian tour will move to new dates.
Guns N' Roses made our collective rock'n'roll dreams come true with 2017's Not In This Lifetime tour and now Paul Dainty AM, President & CEO of TEG DAINTY is thrilled to announce one of the greatest bands of all time will return to tour Nationally in November 2022.
Despite best efforts to proceed in 2021, the tour has been rescheduled and will be even bigger in the summer of 2022 and it's fair to say our appetite for live music performances by international megastars has peaked and in Guns N' Roses we trust!
As the name of GNR's 2017 tour suggests, many GNR fans once believed that they would only be able to experience founding members Axl, Slash and Duff sharing a stage again in their dreams. But then the band's classic line-up regrouped for Coachella 2016 and the Not In This Lifetime tour was announced shortly afterwards.
Axl, Slash and Duff have told fans... 'Australia, we can't wait to see you bigger and better next Summer!'
The Australian leg of Guns N' Roses' Not In This Lifetime stadium tour marked the first time that Australian fans witnessed Axl, Slash and Duff reunited since 1993's Use Your Illusion tour and the band's onstage chemistry was undeniable.
GNR's 2022 Australian tour is set to be the biggest rock stadium tour of 2022. All aboard the Nightrain to Paradise City for what promises to be a heaving celebration of the unbreakable human spirit!
YOU DON'T WANNA MISS THIS!
Tour details at tegdainty.com.